Your guide to protecting your rental property in Scranton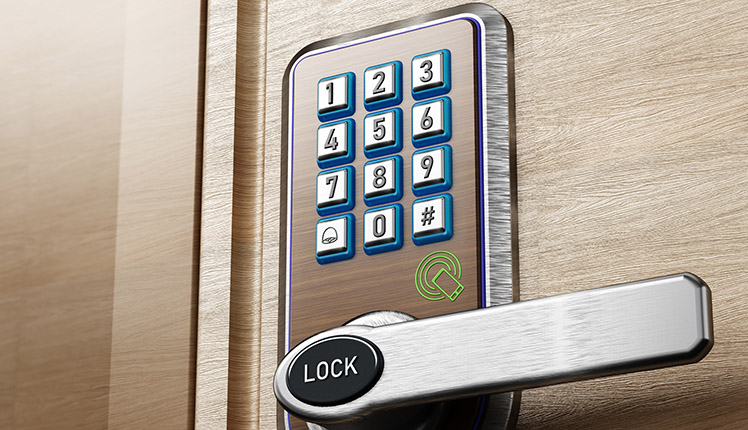 Whether you lease out your family's cottage or have an assortment of Airbnbs, it's often difficult to protect your rental properties in Scranton. With physical keys passing through multiple occupants, it's normal to worry about missing valuables or past visitors arriving unexpectantly. And what should you do if there's an emergency like a fire at your Airbnb while you're offsite?
From enhanced locks to fully automated security systems, here are some top recommendations on how to protect your Airbnb in Scranton.
Say goodbye to traditional keys by switching to smart door locks
When a guest moves on, they might follow your instructions and provide the keys for the next guest. However, if a tenant snatched or copied a key, it would be possible to re-enter later. Of course, you might change the locks after a key is "misplaced", but that takes time and money.
Fortunately, you are now able to use smart locks that function along with your home security system to alleviate these worries. You can then issue every guest their own unique entry code. When tenants depart, don't worry about a key dropoff. All you need to do is set the codes to expire after they vacate the property. If former lodgers come back and make an attempt to enter with their previous access code on the number pad, you will receive an update of the failed attempt on your phone.
A smart security system makes empty properties appear to be inhabited
The goal is that your Scranton rental property will have guests, but that's not always the case. However, you should strive to make it appear that someone is home so your place isn't an easy mark for thieves. Incorporating a security system with home automation allows you to take advantage of smart light bulbs, motion sensors, and security cameras that make your lodging seem lived-in.
Start by programming some lights to come on at specified times of the day. You will also want your security app to alert you if your cameras notice an unwanted guest lurking in the dark or walking toward your main entrance. You have the opportunity to take advantage of the 2-way talk functionality to make them aware that you can see them or program your lighting to automatically illuminate when a surveillance device or motion detection equipment uncovers something unusual.
Protect your Scranton Airbnb with 24/7 monitoring
Your tenants will be more relaxed if they are safeguarded against criminals, specifically when Scranton is not familiar to them. In the event a robber makes an effort to invade your property, your home alarm system will not only initiate the alarm siren but will also ping your 24/7 monitoring professionals. Regardless of your location, emergency services will be dispatched. Your monitoring experts are capable of acting as your primary contact and loop you in whenever you're available.
In addition to break-ins, your monitoring team can link to fire alarms, water sensors, and carbon monoxide sensors. It would be understandably distressing for your visitor if a pipe bursts or a fire erupts. You will then get a cell phone notification that an urgent situation has taken place, but an agent will also authorize emergency services while you're in transit.
Order an innovative home protection plan in Scranton
Protect your Airbnb in Scranton when you get a state-of-the-art home security system. Luckily, Vivint offers popular choices like smart lights, smart door locks, and 24-hour monitoring. Reach out today and our home security experts will personalize a package that's perfect for your Airbnb or rental property. Phone (570) 775-5689 or fill out the form today!
Cities Served Around Scranton By Smart Security Specialists Your Local Vivint Authorized Dealer